100W LED retrofit kit to replace 250W high pressure sodium lamp for parking lot lighting in WI USA. E39 LED retrofit kit 100W lumens reach 12000lm, a perfect solution to replace 250W sodium lamp for parking lot lighting shoe box LED retrofit.

This is for a outdoor parking lot site lighting,located in WI USA, was using some old shoe box pole lighting fixtures with 250W HPS lamps, with lighting condition fading day by day.

The owner then consulted our client, an energy and electrical company, and had sample 80W LED retrofit installed, performance was good, but the brightness is just ok. After about 4 month test,he placed the order but for 100W LED retrofit , in order to get more light output.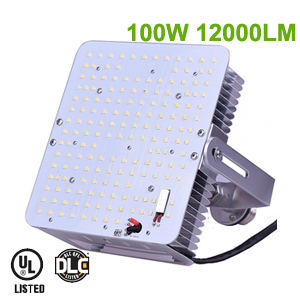 In January 2017, 90pcs 100W LED retrofit kits was all installed, the owner is very happy with the lighting retrofit result, it is more bright and save now.


When comes to replacing 250W high pressure or low pressure sodium lamp, note that the sodium lamp output lumens is very high in some case ( higher than 250W metal halide lamp in most of the case), so we may need to pull up the LED watts in order to reach the lumen requirement in actual lighting retrofit.