LED acorn retrofit bulbs are our patented design to meet the needs for post top/acorn/lantern lighting LED retrofit, to replace the dim and inefficient MH HPS HID lamps from 100W-250W. With special beam angle design at 360° horizontally and 180° vertically pushing most of the light down,with less lost inside top of the fixtures. It can be used for all types of post top/acorn/lantern lighting fixtures etc., dark sky friendly acorn retrofit LED lamp post top bulb.

Product Features
1)Fins aluminum sink heat dissipation system.
2)IP65 driver, moisture proof, insect proof.
3)Built-in short circuit/over current/over temperature protection IC.
4)E39/E26 self-ballasted lamp, more energy saving.
5)4KV surge protection.
6) UL DLC listed with 5 years warranty.
7) dark sky friendly.

Driver Improvement:

Over 5 years experience, many customers has problem with these corn bulbs in the current market,and most of the failure can be bolt down to driver problem. We invested a lot to improve the driver, to restore its credit by applying below:
1) Rubycon capacitor.
2) PQ3225 transformer.
3) EMI circuit with built-in 4KV surge protection.
4) Toshiba Mos, 10A 800V.
5) aluminum shell for better heat dissipation.
6) filled with Smidahk Pottin, insect proof, moisture proof.

Lighting distribution:
With special beam angle, our LED acorn retrofit bulb is able to direct most of the light down to the ground, to cut light loss inside top of the fixture or waste in sky. And that is where we make great difference over the regular straight corn lamps in the market. It is dark sky friendly, more efficient and energy saving !


Is regular straight corn bulb a good solution for acorn post top lighting ? Think again !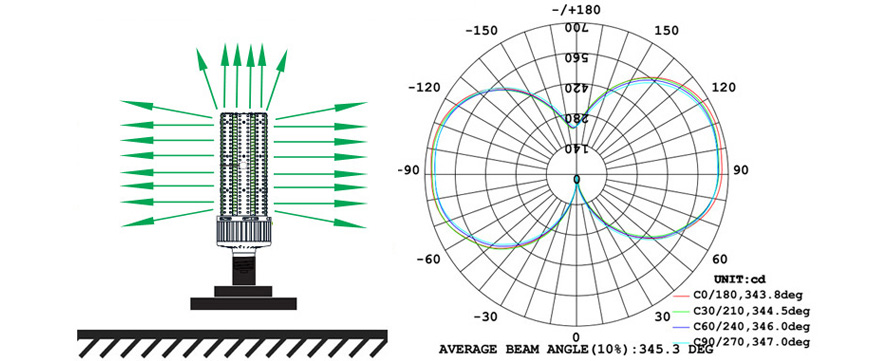 Lighting applications:
LED acorn retrofit bulb is mainly for outdoor post top lighting fixtures, acorn lighting fixtures and lantern lighting fixtures with base up MH HID HPS lamp.Such as GE patriarch luminaire,King luminaire,American Nail Plate LA4421 etc. It generate dark sky friendly lighting for outdoor acorn post top fixtures as LED replacement lamps.